Autograph Note, in the third person, to his publisher Alexander Macmillan.
Author:
Richard Monckton Milnes, Baron Houghton (1809-1885), author and politician [Alexander Macmillan (1818-1896), publisher]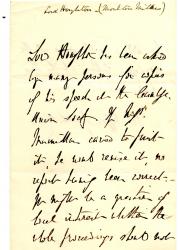 Publication details:
8 November [no year, but after 1863]; 16 Upper Brooke Street [London].
SKU: 7906
12mo, 2 pp. 13 lines of text. Good, on light-aged paper. He has been 'asked by many persons for copies of his speech at the Cambge. Union Socy.', and if 'Messrs. Macmillan cared to print it, he would revise it, no report having been correct'. He wonders 'whether the whole proceedings should not be added, with some of the newspaper letters which have been carried'. Milnes was created Baron Houghton in 1863. In 1866 Macmillan published 'The Cambridge Union Society, Inaugural Proceedings', edited by G. C. Whiteley.
Phone enquries
RICHARD M. FORD
Tel: +44 20 8993 1235