Autograph Signature ('F. Palgrave') on fragment of letter.
Author:
Sir Francis Palgrave (1788-1861) [born Francis Ephraim Cohen], English historian and antiquary, best-known for his poetry anthology 'The Golden Treasury'.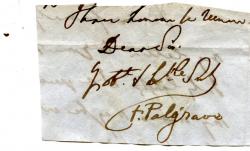 SKU: 7935
On piece of grey wove paper cut into a rough rectangle, 5 x 8 cm. Good, but with light traces of glue from previous mounting on reverse. Reads '<...> | I have honour to remain | Dear Sir | Yr obt. & hble. Servt | F. Palgrave', with the flourish to the 't' of 'Servt' forming the top horizontal stroke to the 'F.' in Palgrave's signature. Reverse reads '<...> | In conformity <...> | my letter to you <...> | July last, I requir<...> | my name may be <...>'.
Phone enquries
RICHARD M. FORD
Tel: +44 20 8993 1235