The Art of Poetry, Written in French by The Sieur de Boileau. In Four Canto's. Made English By Sir William Soames, Since Revis'd by John Dryden, Esq;
Author:
Nicolas Boileau-Despréaux; Sir William Soames; John Dryden; Henry Hills junior, London printer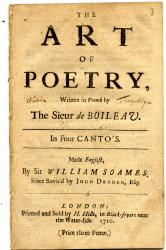 Publication details:
London: Printed and Sold by H. Hills, in Black-fryars near the Water-side. 1710.
SKU: 8007
12mo: 40 pp. Disbound. Good, on lightly aged paper. Contemporary ownership inscription of 'William Francklyn" on title-page. This edition is scarce: no copy in the British Library, and the only copy on COPAC at Liverpool.
Phone enquries
RICHARD M. FORD
Tel: +44 20 8993 1235