The Description and Explanation of a "Universal Character;" or, Manner of Writing, that may be intelligible to the Inhabitants of every Country, although ignorant of each others Language; and which is to be learnt with facility, [...].
Author:
[anon.] [Bath, Somerset; provincial printing; pasigraphy; linguistics; universal language]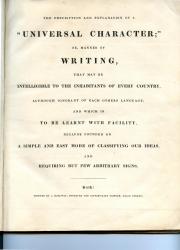 Publication details:
Bath: Printed by J. Hollway, Engraver and Copper-Plate Printer, Union Street.' [1830? 1833? 1835?]
SKU: 8087
4to: 48 + [3] pp of letterpress, with additional leaf after title of 'Errata of Letter Press' and 'Errata in Plates'. Twenty numbered plates (the first two transposed), including one fold-out, and a final seventeen full-page unnumbered plates ('Examples'). Apparently complete. In original brown quarter binding, with cloth spine and paper boards. Ownership inscription of 'Lady Rolle' (1796-1885, born Louisa Barbara Trefusis) on front board. Text clear and complete. On aged and lightly-spotted paper, with wear to extremities and wraps, and cloth spine torn and worn. One of many attempts at producing a universal writing system in which each symbol corresponds to a concept rather than a word or sound from an individual language. The author begins by explaining how the 'acquistion of a universal character has long been desired', but 'the undertaking' has been 'thought almost as fanciful as the search after the Philospher's Stone, or the Elixir Vita; and, consequently, persons in every respect more adequate to the task than the writer of these pages, have been deterred from making the attempt'. The work contains a long explanation of the signs, and specimens from an 'alphabetical dictionary'. The final examples, looking like hieroglyphics, include fables, psalms and the Lord's Prayer. Uncommon: COPAC lists copies at the British Library, Oxford, Cambridge and the National Library of Scotland, with the item variously dated to 1830, 1833 and 1835.
Phone enquries
RICHARD M. FORD
Tel: +44 20 8993 1235