Manuscript notebook, listing the infantry regiments of the British army, with brief descriptions of their mottos, uniforms, and periods of service.
Author:
[British Army Regiments of Foot; Infantry; military]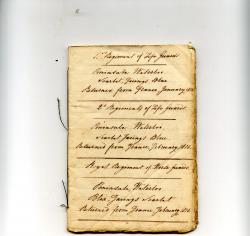 Publication details:
Undated [1840s?]. [English.]
SKU: 8180
12mo (leaf dimensions 16 x 11 cm), 60 pp. Stitched notebook of thirty leaves, without covers. In fair condition, aged and with wear to extremities of outer leaves. On laid Italian paper, with the watermark of the Italian firm G. & C. Cini. Neatly written, with the body of the writing in one hand, and the mottos in another. Text clear and apparently complete. Begins: '1st. Regiment of Life Guards. | Peninsular Waterloo. | Scarlet, Facings Blue. | Returned from France, January 1816.' A typical entry reads '58th. (the Rutlandshire) Regt. of Foot. | Gibraltar, with the Castle and Key. | Montis Insigna [sic] Calpe. | The Sphinx, with the words. Egypt, Maida, Salamanca, Vittoria, Pyrenees, Nivelle, Orthes, Peninsula. | Returned from Ceylon, June 1839. | Facings Black.' Lists the first 99 regiments of foot, as well as the rifle brigade, West India regiments, Ceylon Rifle Regiment, Cape Mounted Riflemen and others. Notebook ends: 'New Army List for the Jannuary [sic] 1841.' The entries on the first seven leaves (fourteen pages) are numbered in pencil to 32. Origin unknown.
Phone enquries
RICHARD M. FORD
Tel: +44 20 8993 1235