A Catalogue of a Collection of Old and Modern Pictures and Drawings, Engravings, Prints and Books. [...] the late Sir Robert W. Dibdin, [...] the late James Duncan Campbell (Craignish) Esq.. C.M.G., [...] the late S. Morell, Esq. [...].
Author:
Robinson, Fisher & Harding, London auctioneers [Sir Robert W. Dibdin; James Duncan Campbell; S. Morell]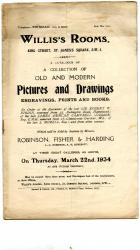 Publication details:
22 March 1934. Robinson, Fisher & Harding. L. C. Robinson, R. H. Hurlbatt. At their great galleries, Willis's Rooms, King Street, St. James's Square, S.W.1. [Barnard & Crannis, Ltd., Printers, 11, Baldwin's Place, Holborn, E.C.1.]
SKU: 8425
8vo, 12 pp. Stapled pamphlet. Text clear and complete. On aged, worn and spotted paper. A total of 204 lots. Pencil notes to lots 4, 9 and 11, with slip indicating their purchase prices, totalling £10 12s 0d. Lot 179 ('Another Property') is given prominence: 'FRANCIS COTES, R.A. A PORTRAIT OF A LADY in White Dress with Green Sash and Pink Cloak, her hair dressed high and adorned with pearls, 3.4 length | 50in. x 40in. | Signed and dated 1788.' No copy in the British Library, on COPAC or WorldCat.
Phone enquries
RICHARD M. FORD
Tel: +44 20 8993 1235