Autograph Letter Signed ('Alec Waugh') to 'Dear Burdett'.
Author:
Alec Waugh [Alexander Raban Waugh (1898-1981), English author, elder brother of Evelyn Waugh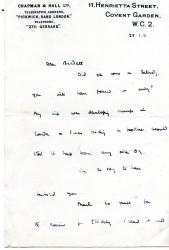 Publication details:
28 January 1921; on letterhead of Chapman & Hall Ltd, 11 Henrietta Street, Covent Garden, London WC2.
SKU: 8585
12mo: 2 pp. Bifolium. Text clear and complete. Fair, on aged paper. If the recipient visited on the Saturday he would have found that the Waughs were away: 'My wife was developing mumps in London & I was kicking a football. Would tha tit had been any other day.' He thanks him for 'the review of Strachey', which he read with much interest, if partial agreement': 'I think mystic experience lies beyond my compass, & therefore I can hardly judge'. Quotes 'our friend Moore' (the philosopher G. E. Moore?) on the subject.
Phone enquries
RICHARD M. FORD
Tel: +44 20 8993 1235