Autograph Letter Signed ('Roundell Palmer') to Macleod, supporting his candidacy for a professorship in Edinburgh.
Author:
Roundell Palmer (1812-1895), 1st Earl of Selborne, Lord Chancellor of Great Britain [Henry Dunning Macleod (1821-1902), Scottish jurist and economist]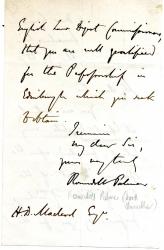 Publication details:
3 May 1871; 11 New Square, Lincoln's Inn, London.
SKU: 8591
12mo, 2 pp. Text clear and complete. Good, on lightly-aged and creased paper. Macleod is 'certainly at liberty' to state Palmer's 'belief', founded on 'the Specimen Digest of the Law of Bills of Exchange' which Macleod prepared for the 'English Law Digest Commissioners', that Macleod is 'well qualified for the Professorship in Edinburgh which you seek to obtain'.
Phone enquries
RICHARD M. FORD
Tel: +44 20 8993 1235