Autograph Letter Signed from Louis-Antoine-François de Marchangy ('L de Marchangy') to 'Monsieur le Comte' [Vincent-Marie Viénot, comte de Vaublanc?].
Author:
Louis-Antoine-François de Marchangy (1782-1826), French writer [Vincent-Marie Viénot (1756-1845), comte de Vaublanc?]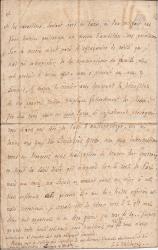 Publication details:
'Limoges ce 22 8bre. [Octobre]' [on paper watermarked 1823].
SKU: 10930
8vo, 4 pp. Seventy lines of text. Clear and complete. Fair, on aged paper, with the outer pages browned. The identity of the recipient is suggested by the following, written in the margin of the first page: 'Ces Dames vous supplient d'agréer l'hommage de leurs souvenirs. Mesdames de Vaublanc et veulent elles me permettre de leur offrir ici la mienne?' His correspondent is writing his memoirs, and de Marchangy considers that he has 'mille fois raison de vivre dans le passé, s'il vous console du present'. '[...] et dans son genre, la votre [histoire] sera certes la meilleure de toutes celles qu'a inspiré le grand siècle; au reste nous en sommes si loin, que de refugier dans ces vastes souvenirs c'est presque oublier le tems [sic] ou l'on vit; ce tems qui fait peur même à ses enthousiastes'. Concerning 'les grands hommes que vous ne comprenez si bien que parceque vous les rappelez'. As for 'ces femmes du grand siècle dont la tradition nous apprend l'esprit et les grâces', 'il serait peut-etre injuste de les aimer à l'exclusion des notres'.
Phone enquries
RICHARD M. FORD
Tel: +44 20 8993 1235