[John Lawrence Toole, comic actor and theatre manager.] Autograph Letter Signed to David Cunningham, referring to the 'terrible blow' of the death of his wife and daughter, and enclosing a photographic postcard of Toole in the character of 'The Don'.
Author:
John Lawrence Toole (1830-1906), English comic actor, a consummate farceur, championed by Charles Dickens, and proprietor of Toole's Theatre in London's Charing Cross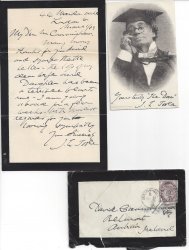 Publication details:
1 March 1889; 44 Maida Vale, London W. The card is undated: '"Ink Photo." Sprague & Co. London.'
SKU: 23951
Toole's entry in the Oxford DNB describes how 'Toole was desolate, and his health broke', after the Tooles' twenty-two year-old daughter Florence died from typhoid fever on in November 1888, contracted a week before when visiting her parents who were performing at Cork. Her mother, Toole's wife Susan, died three and a half months later, in February 1889. Both letter and card are in good condition. They are enclosed in a grubby envelop, with stamp and postmarks, addressed to 'David Cunningham Esq / Belmont / Antrim / Ireland'. Letter and envelope have thick mourning border. ONE: ALS. 1 March 1889. 1p, 12mo. Signed 'J. L. Toole'. He thanks him for his 'kind and sympathetic letter - the loss of my dear Wife and Daughter has been a terrible blow to me', and he is going abroad for a few weeks. TWO: Lithographic portrait of Toole in character, on 7.5 x 11 cm card. Publishers' slug at bottom left, in tiny capitals: '"INK PHOTO." SPRAGUE & CO. LONDON.' It depicts Toole dressed as a Victorian schoolmaster, with wing-collar shirt and mortar board, with right hand holding up pince-nez to his eyes. Beneath the photograph, in a facsimile of Toole's handwriting: 'Yours truly "The Don" / J. L. Toole'. See image.
Keywords:
Phone enquries
RICHARD M. FORD
Tel: +44 7884 315 545