[Sir Peter Scott, ornithologist, conservationist and artist.] Typed Letter Signed, advising 'Squirrel' on 'the right type of field glasses' and new developments in the design of binoculars.
Author:
Sir Peter Scott [Sir Peter Markham Scott] (1909-1989), ornithologist, artist, conservationist, founder of the Wildfowl Trust, son of Antarctic explorer Sir Robert Falcon Scott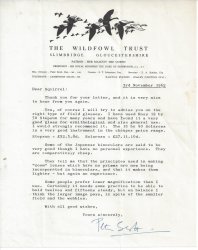 Publication details:
3 November 1962; on letterhead (with illustration by him of birds in flight) of the Wildfowl Trust, Slimbridge, Gloucestershire.
SKU: 24034
See his entry in the Oxford DNB. 1p, 4to. In fair condition, lightly aged, with slight spotting to margin. Folded three times. Good signature: 'Peter Scott.' Addressing himself to 'Dear Squirrel', he writes: 'Yes, of course I will try to advise you on the right type of field glasses. I have used Ross 12 by 50 Stepsun for many years and have found it a very good glass for ornithological and also general use. I would strongly recommend it. The 15 x 40 Solaross is a very good instrument in the cheaper price range.' He gives prices for both, and then continues: 'Some of the Japanese binoculars are said to be very good though I have no personal experience. They are comparatively cheap.' He is told that 'the principles used in making "zoom" lenses which have no prisms are now being incorporated in binoculars, and that it makes them lighter - but again no experience'. He ends by dealing with the question of magnification: 'it needs some practice to be able to hold twelves and fifteens steady, but on balance I think the larger image pays, in spite of the smaller field and the wobbles'. See image.
Keywords:
Phone enquries
RICHARD M. FORD
Tel: +44 7884 315 545