['A whole career lies between the quotations': V. S. Pritchett, English writer and critic.] Autograph Letter Signed ('Victor Pritchett'), submitting his 'Turgenev' (i.e. the typescript of his 'Gentle Barbarian') to his editor 'Mr Higgins'.
Author:
V. S. Pritchett [Sir Victor Sawdon Pritchett] (1900-1997), English writer and literary critic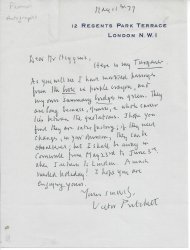 Publication details:
11 May 1977. On letterhead of 12 Regents Park Terrace, London N.W.1.
SKU: 24076
Pritchett's 'The Gentle Barbarian: The Life and Work of Turgenev' appeared in 1977; the present letter is clearly addressed to his editor at the book's publishers Chatto & Windus. Pritchett's entry in the Oxford DNB describes his handwriting as 'legendarily ugly and difficult to decipher', but the present example is no worse than an average hand. 1p, 12mo. In good condition, lightly aged. Two fold lines. He is sending his 'Turgenev', and explains: 'As you will see I have marked passages from the book in purple crayon, and my own summary bridges in green. They are long because, of course, a whole career lies between the quotations.' He hopes Higgins finds that 'they are satisfactory; if they need changes, in your opinion, they can be altered', but he gives dates when he will be 'away in Cornwall' for 'A much needed holiday!' He ends in the hope that Higgins is enjoying his holiday. See image.
Keywords:
Phone enquries
RICHARD M. FORD
Tel: +44 7884 315 545