[Oscar I, King of Norway and Sweden.] Part of document, with Autograph Signature ('Oscar'), date and large embossed seal under paper.
Author:
Oscar I, King of Sweden and Norway (born Joseph François Oscar Bernadotte; lived 1799-1859; reigned 1844-1859)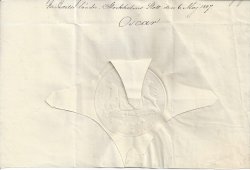 Publication details:
'Stockholms Slott [Stockholm Castle] den 6 Maj 1847.'
SKU: 24102
On 22 x 14 cm piece of laid paper, cut from the foot of a document. In fair condition, lightly aged and creased, with tiny closed tear to one edge. Folded three times. At head, in the kings hand: '[...] terrattelse lander. Stockholms Slott den 6 Maj 1847. / Oscar'. Directly beneath the firm, clear signature, is the embossed circular seal, under paper, 6 cm in diameter, with motto 'OSCAR SVER NOR GOTH OCH W KONUNG / RATT OCH SANNING'.
Keywords:
Phone enquries
RICHARD M. FORD
Tel: +44 7884 315 545