Autograph Signature.
Author:
Christine Nilson (1843-1921), Swedish singer, the subject of Corot's famous painting 'The Bohemian with a Mandolin'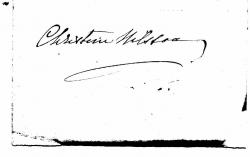 Publication details:
Place and date not stated.
SKU: 7352
On a piece of laid watermarked paper roughly 11.5 cm square. Good firm underlined signature, about 8 cm long. On aged paper, with pin holes above and below, and a vertical fold about 1 cm above.
Phone enquries
RICHARD M. FORD
Tel: +44 20 8993 1235