Promotional booklet in English, with photographic illustrations: 'From Industrial Sweden. Aktiebolaget Bofors. Bofors, Sweden.
Author:
Bofors Steel Works, Gothenburg, Sweden [Bofors anti-aircraft gun; armaments; warfare; military]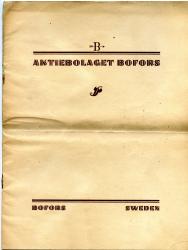 Publication details:
Gothenburg: 1923. ['Wald. Zachrissons Boktr. A.-B., Göteborg 1923'.]
SKU: 7613
4to (28.5 x 21.5 cm): 8 pp. In original buff printed wraps. Printed on shiny art paper. Text complete and clear. Lightly spotted, with central vertical fold, grubby wraps, rusted staples. Twelve photographs, ranging in size from half- to quarter-page: 'General View of the Bofors Works', 'Erecting shop', 'Fitting shop', '15 cm. Guns', 'Hardening tower', '15 cm. (6 inch.) double gun-carriage M/12', 'Rolling Mill housing, weight 33 tons', 'Runner for water turbine', 'Ore Crusher', 'Exterior of the Bofors Steel Works', 'Screw Automatics' and 'Details'. Includes technical information and a table.
Phone enquries
RICHARD M. FORD
Tel: +44 20 8993 1235