Autograph address and short note.
Author:
John Cowper Powys (1872-1963), Anglo-Welsh writer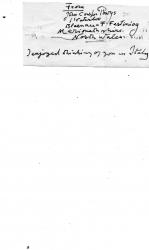 Publication details:
Date and place not stated.
SKU: 7680
On one side of a piece of wove paper, cut into a rectangle approximately 4.5 x 9 cm. Good, on lightly-creased paper with one vertical fold. Cut from an envelope, with traces of the postmark over the autograph, and a section of the gummed strip on the reverse. Reads 'From | John Cowper Powys | Waterloo | Blaenau - F Festiniog | Merionethshire | North Wales | I enjoyed thinking of you in Italy'.
Phone enquries
RICHARD M. FORD
Tel: +44 7884 315 545