Autograph Letter in the third person to Buchan, regarding 'Mr. Pitt', 'his abilities and fortitude' and 'the dilemma' arising from 'the present situation'.
Author:
Thomas Pitt, 1st Baron Camelford (1737-1793), politician and art collector [David Steuart Erskine, eleventh earl of Buchan (1742-1829), antiquary and reformer]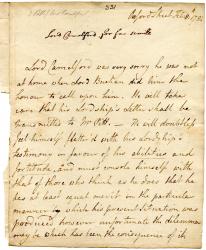 Publication details:
8 February 1784; Oxford Street.
SKU: 8704
4to, 1 p. On piece of watermarked laid paper. Thirteen lines of text. Clear and complete. Good, on aged paper, with thin strip of stub adhering to blank reverse. Docketed at head, in a contemporary hand, '331 | Lord Camelford for fac simile'. Camelford was not at home when Buchan called, but he 'will take care that his Lordship's Letter shall be transmitted to Mr Pitt [his cousin William Pitt the younger?]'. Pitt 'will doubtless feel himself flatter'd with his Lordship's testimony in favour of his abilities and fortitude'. There is 'merit' in 'the particular manner by which his present Situation was produced however unfortunate the dilemma may be which has been the consequence of it.'
Phone enquries
RICHARD M. FORD
Tel: +44 20 8993 1235