Photographic portrait by Nadar of the opera singer Christine Nilsson, with presentation inscription by her to 'Mr Montiguani'.
Author:
Christina Nilsson (1843-1921), Countess de Casa Miranda, Swedish opera singer, inspiration for the character of Christine Daaé in Gaston Leroux's novel Phantom of the Opera [Nadar; 'Mr Monteguani']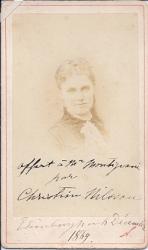 Publication details:
"Edinburgh le 6 Décembre 1869.' On Nadar's carte de visite, 'Nadar | 35, Boulevart [sic] des Capucines | PARIS.'
SKU: 9909
Albumen printh, 8.5 x 5.5 cm, laid down on card, 10.5 x 6 cm. In fair condition: lightly faded on slightly-aged card. Card printed in red on both sides, with Nadar's address and facsimile signature on reverse, and his initial within the border containing the photograph on the other side. Head and shoulders shot of the singer, staring at the viewer in a dark dress attached at the neck. Beneath the image, on both print and card, Nilsson has written, 'offert à Mr Montiguani | par | [signed] Christine Nillson | Edinburgh le 6 Décembre | 1869.' An apparently-uncommon portrait, for both sitter and photographer.
Phone enquries
RICHARD M. FORD
Tel: +44 7884 315 545