[ Arthur Murphy, Irish writer ] Autograph Instruction Signed to Cadell Esq [publishers].
Author:
Arthur Murphy, Barrister and Author [(1727–1805), Irish writer.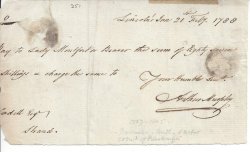 Publication details:
Lincoln's Inn, 21 July 1788.
SKU: 23054
Paper, 15 x 9cm, trimmed with minimal loss of text, some staining, text clear and legible. Pay to Lady Montfort's Bearer the sum of Eighy seven Shillings & charge the same to | Your Humble Servt. | Arthur Murphy. A bold and impressive signature. Note: A, He studied at Jesuit run Saint-Omer, France, and was a gifted student of the Latin and Greek classics. He worked as an actor in the theatre, became a barrister, a journalist and finally a (not very original) playwright. He edited Gray's Inn Journal between 1752 and 1754. As Henry Thrale's oldest and dearest friend, he introduced Samuel Johnson to the Thrales in January 1765. He was appointed Commissioner of Bankruptcy in 1803.; Cadell was his publisher - B. Murphy, Arthur. 1786. The Works of Arthur Murphy, Esq. in Seven Volumes. London: Cadell; C. Lady Montfort was a client of his legal practice. A scarce autograph.
Keywords:
Phone enquries
RICHARD M. FORD
Tel: +44 7884 315 545