Autograph Letter Signed ('Le Directeur | de Puymaurin'), in French, from Baron de Puymaurin, Master of the Paris Mint, to Messieurs les [?secretaries?] de la Chambre des Deputés
Author:
Baron Jean Pierre Casimir de Marcassus de Puymaurin (1757-1841), Master of the Paris Mint, 1816-1830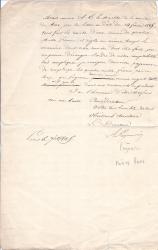 Publication details:
7 July 1825; Paris. On illustrated letterhead of 'Monnaie Royale des Medailles'.
SKU: 10140
Folio, 2 pp. 31 lines. Text clear and complete. On aged paper, chipped at extremities. The elaborate letterhead features a circular engraving by Heuer of two classical female figures in front of a press. The letter begins: 'La fabrication des Médailles en or, que vous avez demandé pour Messieurs les Députés, n'a fait que précéder une fabrication plus considérable qu'a eu lieu a L'occasion du Sacre de sa Majesté et qui ma obligé a faire les avancer de fonds, dont la Sortie a epuisé en entiere la Caisse de la Monnaie Royale.' Gives details of sums of money expended, with a request for repayment.
Phone enquries
RICHARD M. FORD
Tel: +44 20 8993 1235