[First volume in series 'George Cruikshank's Fairy Library'.] Hop-o' my-Thumb and the Seven-League Boots. Edited and illustrated with six etchings by George Cruikshank.
Author:
George Cruikshank [David Bogue]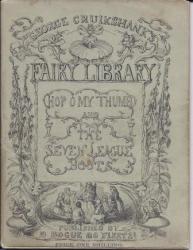 Publication details:
[First edition of 1853.] London: David Bogue, 86 Fleet Street. ['LONDON: Printed by G. BARCLAY, Castle St. Leicester Sq.']
SKU: 11005
8vo, [ii] + 30 pp. All nine illustrations on six plates present as called for in list on verso of fly-leaf. In original green card wraps, ornately illustrated on cover, which has at its head, 'GEORGE CRUIKSHANK'S | FAIRY LIBRARY'; and at its foot, 'PUBLISHED BY | D BOGUE 86 FLEET St. | PRICE ONE SHILLING'. On back cover: 'Preparing for Publication, | JACK AND THE BEAN-STALK. | EDITED | AND | ILLUSTRATED | BY | GEORGE CRUIKSHANK.' Internally good, on aged paper (the last print particularly foxed), in fair binding with light wear and slight staining.
Phone enquries
RICHARD M. FORD
Tel: +44 20 8993 1235