[Second volume in series 'George Cruikshank's Fairy Library'.] The History of Jack & the Bean-Stalk | Edited and illustrated with six etchings by George Cruikshank.
Author:
George Cruikshank [David Bogue]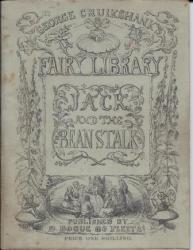 Publication details:
[First edition of 1853.] London: David Bogue, 86 Fleet Street. ['LONDON: Printed by G. Barclay, Castle St. Leicester Sq.]
SKU: 11006
8vo, 32 pp. All eight illustrations on six plates present as called for in list on verso of fly-leaf. In original green card wraps, ornately illustrated on cover, which has at its head, 'GEORGE CRUIKSHANK'S | FAIRY LIBRARY'; and at its foot, 'PUBLISHED BY | D BOGUE 86 FLEET St. | PRICE ONE SHILLING'. On back cover: 'ALREADY PUBLISHED, | HOP O'MY THUMB AND THE SEVEN LEAGUE BOOTS, | ILLUSTRATED WITH SIX PLATES, CONTAINING NINE SUBJECTS, | BEING | No. 1 OF GEORGE CRUIKSHANK'S FAIRY LIBRARY. | Preparing for Publication, | No. III. | CINDERELLA AND THE GLASS SLIPPER. | EDITED | AND | ILLUSTRATED | BY | GEORGE CRUIKSHANK. | Price One Shilling each.' Internally good, on lightly-aged paper, in fair binding with light wear and slight staining.
Phone enquries
RICHARD M. FORD
Tel: +44 20 8993 1235