Autograph Letter Signed from Godfrey Turner to [Edward] Walford, concerning the publication in the Daily Telegraph of an article on 'Our National Anthem'.
Author:
Godfrey Turner [Godfrey Wordsworth Turner] (182-1891), journalist with the Daily Telegraph [Edward Walford (1823-1897); Sir Edwin Arnold (1832-1904), editor of the 'Daily Telegraph', 1873-1888]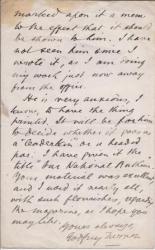 SKU: 11018
12mo, 2 pp. 34 lines. Text clear and complete. Fair, on lightly-aged paper. He received Walford's manuscript and 'did free my spirit, as I promised I would, without loss of time'. The matter is now in the hands of the printer of the Daily Telegraph, who, 'at the time of going to press, is master of of the situation, and often delays, from night to night, giving a place to our best-loved paragraphs.' Turner marked his copy with 'a mem to the effect' that it should be shown to 'Mr. Arnold'. He has not seen Arnold since he wrote the piece, as he is working 'away from the office', but he knows he is 'very anxious' to 'have the thing printed'. Turner has given it the title 'Our National Anthem'. Ends by praising Walford's 'material'.
Phone enquries
RICHARD M. FORD
Tel: +44 7884 315 545