Two manuscript account books, both in German, of the income and expenditure in Hanover of Princess Adelaide of Saxe-Meiningen ('Königin Adelheid von Großbritannien'), widow of the English King William IV. With reference by her housekeeper inserted.
Author:
Princess Adelaide of Saxe-Meiningen (1792-1849), Queen of the United Kingdom of Great Britain and Ireland, and of Hanover, consort of King William IV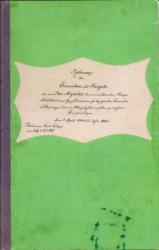 Publication details:
The two account books are dated April 1844 to 1845; April 1847 to 1848.
SKU: 11196
The two volumes folio, 20 pp, and folio, 18 pp. Both in the same neat hand and in uniform original bindings of green boards, with green cloth spines and white decoratively-cut paper labels on front covers, each carrying a description of the contents addressed to 'Königin Adelheid von Großbritannien'. The first account book (1844-1845) has part of the second leaf (pp.2-3) torn away; and the second (1847-1848) is lacking the fourth leaf (pp.9-10). The second has a summary (3 pp, folio, on bifolium) loosely inserted, addressed to 'Königliche Majestät', and dated 'Meiningen, den 25 Juni [June] 1848'. The second account book also has, tipped in to the front pastedown, a signed autograph reference from 'E. Ballinger | Housekeeper to her late Majesty Queen Adelaide', addressed from '40 Colehill Street, Eaton Square' and undated, for 'Hannah Feesey', who 'lived has [sic] Housemaid in the establishment of Her late Majesty Queen Adelaide upwards of 4 years': 'I found her a clean industrious good servant, and a respectable well conducted young woman'. Expenses include 'Bauwesen und Meublement im Fürstenhaus zu Liebenstein'. The two volumes contain a total of eleven pages of 'Pensionem', with the named recipients including Löwenstern, Wagner, Uttenhoven, Mauris, Panzerbieter, Zierlein. A scarce and unusual item: personal accounts for leading members of the Royal Family rarely if ever appear on the market.
Phone enquries
RICHARD M. FORD
Tel: +44 7884 315 545