[Cardinal Wiseman, Archbishop of Westminster.] Autograph Note in the third person proposing a meeting with 'Mr Blackett' [bookseller Henry Blackett of London firm Hurst & Blackett].
Author:
Cardinal Wiseman [Nicholas Patrick Stephen Wiseman] (1802-1865), Roman Catholic cleric, first Archbishop of Westminster on 1850 re-establishment of Catholic hierarchy in England [Henry Blackett]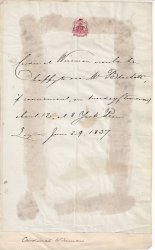 Publication details:
29 June 1857; Leyton. On his armorial letterhead with motto 'Omnia pro Christo'.
SKU: 23996
See his entry in the Oxford DNB. The recipient is the publisher Henry Blackett (1825-1871) of the leading London firm Hurst & Blackett, and the meeting was evidently to discuss terms, possibly for Wiseman's 'Recollections of the Last Four Popes', which the firm published in 1859. 1p, 8vo. Laid down on another leaf. In fair condition, lightly aged, on thin paper, and with discoloration from the glue used in laying the item down. Small red armorial letterhead. The note reads: 'Cardinal Wiseman will be happy to meet Mr Blackett, if convenient, on Tuesday (tomorrow) about 12, at 8 York Place / Leyton June 29. 1857'. Hurst and Blackett would also publish Wiseman's lecture 'Points of Contact between Science and Art' (1863), and his book on William Shakespeare (1865).
Keywords:
Phone enquries
RICHARD M. FORD
Tel: +44 7884 315 545