[Ben Weinreb, London bookseller and editor of 'The London Encyclopedia'.] Autograph Note Signed [to fellow bookseller Andrew Block] on attractive printed invitation card for the opening of the new 'Weinreb + Douwma' print and map shop.
Author:
Ben Weinreb (1912-1999), London bookseller and authority on architecture, first editor of 'The London Encyclopedia' [Robert Douwma, printseller; Andrew Block, bookseller]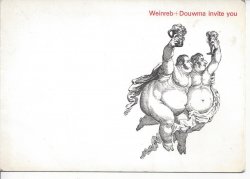 Publication details:
Invitation to shop opening, 26 January 1970; 93 Great Russell Street, London WC1.
SKU: 24127
See Nicolas Barker's appreciative obituary in the Independent, 7 April 1999, which notes that after selling his entire stock to the University of Texas in 1968, 'He moved his business to the other side of Great Russell Street, and briefly opened another shop, selling prints in partnership with Rob Douwma.' (The British Museum website states that 'Weinreb & Douwma was on the corner of Great Russell Street and Bloomsbury Way during the 1970s and 1980s.') The obituary of the recipient Andrew Block (1892-1987) in 'The Private Library' was subtitled 'the doyen of booksellers'; his business was established in 1911. An attractive piece of printing, as befits a printseller, and a nice piece of London ephemera, as befits the first editor of the London encyclopedia. Printed in black and red on 15 x 10.5 cm bifoliate card. In fair condition, a little grubby and lightly worn. Nicely designed with effective use of blank space. The cover has a Monty Pythonesque couple of overweight and overaged cherubs, clanking tankards of ale over head as they skip towards the outer margin, trailing cloth to preserve their modesty. Above them, printed in red: 'Weinreb + Douwma invite you'. The only other printing on the card is the continuation of this message, also in red, across the head of the central opening: 'to celebrate the opening of the new shop on Monday 26 January 1970 from 6 to 8 pm at 93 Great Russell Street London WC1 telephone 01-636 4895 | RSVP'. Beneath this, on the recto of the second leaf, Weinreb writes in his stylized hand: 'Would be glad / if you could come / Ben'. From the papers of the eminent London bookseller Andrew Block of Barter Street (established 1911). See image.
Keywords:
Phone enquries
RICHARD M. FORD
Tel: +44 7884 315 545