[John Antes, Egypt and Osman Bey.] Printed pamphlet: 'Anecdotes in the Life of John Antes: Giving an Account of his Residence in Egypt, and his Sufferings from the Inhumanity of Osman Bey.' With illustration.
Author:
[John Antes (1740-1811), American composer and instrument-maker, tortured by Osman Bey's followers while a Moravian Missionary in Egypt]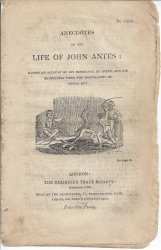 Publication details:
No date. 'No. 1553.' London: / The Religious Tract Society / Instituted 1799. / Sold at the Depository, 56, Paternoster Row, and 65, St. Paul's Churchyard.
SKU: 24599
See the articles on Antes by Donald M. McCorkle in the Musical Quarterly, 1956, and Richard D. Claypool, in the Moravian Music Foundation Bulletin, 1978. Seven copies listed on JISC (only three in deposit libraries); now scarce. 8pp, 12mo. Disbound. In fair condition, worn and discoloured. Vignette on cover shows Osman Bey sitting cross-legged while two of his followers whip the unfortunate Antes, while a third looks on. Drophead title, p.2: 'Anecdotes in the Life of John Antes, A Moravian Missionary.'
Keywords:
Phone enquries
RICHARD M. FORD
Tel: +44 7884 315 545