[Admiral Beatty, First Sea Lord.] Autograph Signature ('David Beatty | Rear-Admiral') on part of document.
Author:
Admiral Beatty [Admiral of the Fleet David Richard Beatty, 1st Earl Beatty (1871-1936)], First Sea Lord, 1919-1927, commander of the 1st Battlecruiser Squadron at the Battle of Jutland in 1916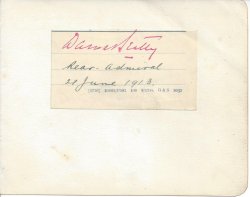 Publication details:
Dated 21 June 1913. No place.
SKU: 24760
See his entry in the Oxford DNB, in which 'deep professional commitment and mental toughness' are said to be qualities whose possession he demonstrated 'heroically'. Beatty's aggressive tactics at the Battle of Jutland are often contrasted with Jellicoe's more cautious approach. After the explosion of the Indefatigable and the Queen Mary, with the loss of 1283 officers and men, he came out with the celebrated understatement, 'There seems to be something wrong with our bloody ships today'. The present item is in good condition, lightly aged, and laid down on a leaf removed from an autograph album. It is a 9.5 x 5 cm piece of paper, cut from the base of a form, with Beatty signing in red on the top line, and the following two lines written out by him in blue: 'David Beatty / Rear-Admiral / 21 June 1913.' Printed in small type at the foot: '[2726] 20002/P501 100 9/12va G & S 2032'. See image.
Keywords:
Phone enquries
RICHARD M. FORD
Tel: +44 7884 315 545