['We are so vexed, & not our fault': Augusta, first Empress of Germany [Augusta of Saxe-Weimar], wife of Kaiser Wilhelm I.] Autograph Letter Signed, in English, to Lady Ashbourne, regarding a conflict of invitations with the Abercorns.
Author:
Augusta, Empress of Germany [Augusta Marie Luise Katharina of Saxe-Weimar-Eisenach; Queen of Prussia] (1811-1890), wife of Kaiser Wilhelm I [Frances Maria Adelaide Gibson, Lady Ashbourne (1849-1926)]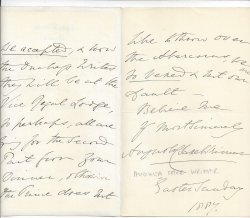 Publication details:
'Easter Sunday / 1887.' On letterhead of the Royal Hospital, Dublin.
SKU: 25130
In 1858 her son Frederick married Princess Victoria, the eldest child of Queen Victoria and Prince Albert; her grandson was Kaiser Wilhem III. For Lady Ashbourne, see her husband's entry in the Oxford DNB. 3pp, 12mo. Bifolium with mourning border. In good condition, lightly aged. Folded once for postage. Before receiving Lady Ashbourne's invitation, 'The Duke & Duchess of Abercorns, [sic] my Cousins, had begged us attend a Masonic Concert the 18th. & we accepted, & now the Duchess writes they will be at the Vice Regal Lodge, so perhaps, all are going for the Second Part from your Dinner, otherwise the Prince does not like to throw over the Abercorns, we are so vexed & not our fault'. See Image of pp.2-3.
Keywords:
Phone enquries
RICHARD M. FORD
Tel: +44 7884 315 545