[Harrow School in Georgian times.] Anonymous Manuscript Notebook, containing lists of boys' names under various headings ('Monitors', 'Upper VI' and so on), compiled under headmastership of George Butler.
Author:
Harrow School in Georgian Times [George Butler (1774-1853), headmaster from 1805 to 1829, and later Dean of Peterborough]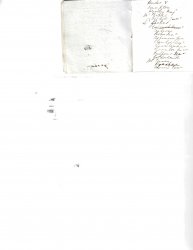 Publication details:
Circa 1818. Harrow School, Middlesex.
SKU: 25164
This item is a nice artefact of one of England?s foremost public schools. The great rival of Eton, Harrow numbers among its alumni seven prime ministers, including Churchill. This notebook comprises lists of boys and their positions and classes in a particular term. The paper stock, watermark and handwriting all indicate that its composition is contemporaneous with the schooling of those named. It is the work of one person, almost certainly one of the school?s masters, and its loose and hurried nature indicate that it was intended for personal use, or as an aid in future writing. There is no internal indication of author or source, but the latter is established beyond all doubt by reference to R. Courtenay Welch?s ?Harrow School Register, 1801-1893? (1894), which shows that the notebook was compiled in the last few years of the reign of George IV, and certainly during the tenure of George Butler (1774-1853), headmaster from 1805 to 1829, and later Dean of Peterborough (see his entry in the Oxford DNB). As Welch explains in his introduction, the early part of his register is incomplete, and it is likely that the present item names individuals not present there. It is 24pp, with an additional 2pp of pencil calculations and a page with a simple pencil drawing of the front parts of a horse, in a stitched 7 x 8 cm notebook of watermarked laid paper, in dark-blue waxed card wraps. The notebook contains thirty leaves out of an original thirty-six, with a few leaves loose and one stub present. All but one of the 24pp are written on the rectos. Each page carries a list of names - sometimes as many as 21 to a page, sometimes only a handful, under the following headings: p.1, Monitors; pp.2 and 3, Upper VI; p.6, Upper V; p.8, Under V; p.11, Upper Shell; p.14, Under Shell; p.16, IV Form 1st Rem.; p.18, IV Form 2nd Rem.; p.20, IV Form 3d Rem.; p.21, IIId Form 1st Rem; p.22, IIId Form 2nd Rem; p.23, IIId Form 3d Rem; p.24, Unplaced. P.14 will serve as an example: ?Under Shell / Perceval Minr / Maydwell / Smith Minor / Balfour Jun / Bradford / Graham / Park Junior / Crommelin Senr / Davidson / Gregg / Mr Dundas Junr / Winter / Elliot / Sheppard / Hammet / Macham / North Minr?. Among the mass of names, many are identifiable with Welch?s aid. The following individuals were, unless otherwise stated, entered in 1813-15: ?R. B. Phillipps Senr / Longworth in the County of Hereford? is identified by Welch as Robert Biddulph Phillipps, ?son of Chancellor Phillipps?(entered 1811); ?A. Clive Esq of Whitf[ield]? is Archer Clive (d.1878), ?son of E. B. Clive, Esq., M.P.? (entered 1811-1813); ?Ponsford? is William Ponsford, ?son of W. Ponsford, Esq., Puddicombe, Devon?; on p.3 ?Boileau Pollen? is George Pollen Boileau-Pollen, ?son of J. P. Boileau, Esq. (afterwards Boileau-Pollen)?; ?Ld Ashley? is Anthony Ashley-Cooper, Lord Ashley, ?son of the 6th Earl of Shaftesbury?; ?Goldschmidt? is Adolphus Goldschmidt, ?Merchant?; ?Crommelin Senr? is George Russell Crommelin (1803-1844), the younger Crommelin being Thomas Lake Crommelin (1805-1877); ?Count P: Lieven? is Count Paul Lieven, ?son of Count (afterwards Prince) Lieven, Russian Ambassador? (1816).
Keywords:
Phone enquries
RICHARD M. FORD
Tel: +44 7884 315 545