[Auberon Waugh, journalist and novelist, son of Evelyn Waugh.] Long and entertaining Typed Letter Signed to Philip Dosse, proprietor of 'Books and Bookmen', regarding personal and professional matters.
Author:
Auberon Waugh ('Bron', 1939-2001), journalist, novelist and editor of the 'Literary Review', son of Evelyn Waugh [Philip Dosse (c.1924-1980), proprietor of 'Books and Bookmen' (Hansom Books)]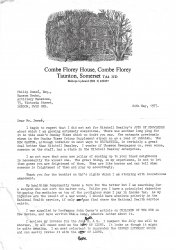 Publication details:
24 May 1977. On illustrated letterhead of 'Combe Florey House, Combe Florey, Taunton, Somerset.
SKU: 25403
See his entry in the Oxford DNB. From the archives of Philip Dosse, proprietor of Hansom Books, publisher of the 'Seven Arts' group of magazines, including 'Books and Bookmen' and 'Plays and Players'. See 'Death of a Bookman' by the novelist Sally Emerson (editor of 'Books and Bookmen' at the time of Dosse's suicide), in Standpoint magazine, October 2018. 2pp, 4to. The letterhead, on both leaves, is topped by a pleasing 10 x 6 cm woodcut of Combe Florey House. The paper is creased, otherwise in good condition, and entirely legible. Signed 'Auberon Waugh' with a handful of minor autograph corrections. Folded twice for postage. He begins with reference to his review work for Dosse's 'Books and Bookmen': 'I begin to regret not asking for 'Mitchell Beazley's JOYS OF KNOWLEDGE, about which I am growing extremely suspicious. [...] The extracts previously shown in the Sunday Times Colour Supplement struck me as a load of rubbish. [...] I wonder if Thomson Newspapers or, even worse, someone on their staff, has a stake in the Mitchell Beazley enterprise.' A piece of casual racism follows: 'I am not sure that your new policy of sucking up to your black neighbours is necessarily the wisest one. The great thing, in my experience, is not to let them guess you are frightened of them. They are like horses and can tell when someone is frightened of them and play up accordingly.' He is 'studying with incredulous amazement' the 'booklet on OAP's rights' which Dosse has sent him. 'My health has temporarily taken a turn for the better but I am searching for a surgeon who can sort the matter out. Unlike you I have a principled objection to paying for medicine on top of the prodigious sums I pay in income tax. As my injuries are the result of a war wound, [see his ODNB entry] I should have absolute priority in the National Health service, if only I can find where the National Health service exists.' He has written John Carey 'a long, abusive letter' about his article on 'Children of the Sun' in New Review. The second half of the letter continues in the same vein, with reference to his 'invoice for the June B. and B.', the 'new titles from Gales' (which 'look pretty rubbishy to me'), a letter from Dosse to Robert Skidelsky, sent to Waugh in error, and Dosse's 'Union difficulties'. See Image of first page.
Keywords:
Phone enquries
RICHARD M. FORD
Tel: +44 7884 315 545