[J. M. Barrie [Sir James Matthew Barrie], Scottish writer, author of 'Peter Pan'.] Copy of numbered edition of 'Sir J. M. Barrie / His First Editions Points and Values By Andrew Block', with numerous knowledgeable manuscript annotations.
Author:
J. M. Barrie [Sir James Matthew Barrie], Scottish writer, author of 'Peter Pan'; Andrew Block, London bookseller; W. and G. Foyle Limited [Foyles], London booksellers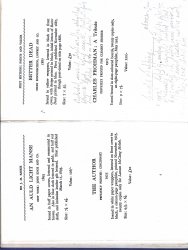 Publication details:
'W. & G. Foyle Limited / At the Sign of the Trefoile / London'. 'The edition is limited to Five hundred copies. / Copy number 16'. Vol.3 in the 'First Editions and their Values' series. [Annotations from around the 1970s.]
SKU: 25447
xiv + [1] + 38pp, 12mo. No.16/500. In blue cloth binding, titled in gilt on cover and spine. No dust wrapper. Printed on thick paper. In good condition, lightly aged. Annotated in pencil throughout, and with a page of annotations at the end. The handwriting is distinctive (and certainly not Block's), with the capital N in particular. Some of the annotations give dates from the 1970s, but the handwriting is that of someone from an earlier generation. As an example, one of the longer pencil annotations, on p.5, listing an additional item: 'Caught Napping. / c. 1883. Copy @ auction Sothebys [@ £15. to - Green.] 4/12/73. Presumably a privately printed play. Can't recall ever having seen mentioned before. If correct, Barries's earliest work. (Refer: see "The Story of J. M. B.": Mackail. p.85)'. From the residual archive of the authoir, Andrew Block. See Image for example of annotation.
Keywords:
Phone enquries
RICHARD M. FORD
Tel: +44 7884 315 545