Colour booklet of 'Labels. Their Origin and Present Day Uses. With the Compliments of W. J. Cummins, Colour Printer, Bishop Auckland, Co. Durham. Representatives in - London, Lancashire, Midlands, and North East. India, British West Indies.'
Author:
lW. J. Cummins, Colour Printer, Bishop Auckland, Co. Durham [printing ephemera]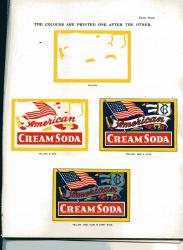 Publication details:
No date [1920s?]. Bishop Auckland, Co. Durham: W. J. Cummins, Colour Printer.
SKU: 7381
4to: 22 pp. Leaf dimensions roughly 280 x 210 mm. Ring binder in original card wraps printed in red. Very good in lightly-spotted wraps. Ring binding slightly rusted. Features ten pages of bright, striking and attractive label designs. The first page shows four 'Colours of Design Separated' for 'William's Extra Stout'. The second page shows, in four diagrams, how 'The colours are printed one after the other' on a label for American Cream Soda. Another page shows the design for 'Smith & Jones Ltd Nut Brown Ale in three colour combinations. Other products include S. Slater Ltd's Cherry Crush, Strawberry Cream Soda (The Thames Mineral Water Factory, 21, High Street, Staines), Delicious Quality Orange Squash, Gaden's Old English Ginger Ale, Seymour's Sparkling Grape Fruit Crush, Newfoundland Brewery Limited Birch Beer, Ship Olde Englishe Ruby Wine, Ribeiro Railway Bar Rum, Haytor Finest London Gin, Charley's Jamaica Rum, Horsford's Spanish Port, Glen Roy Minnt Sauce, Flambeau and Comet Safety Matches, Seabrook Mono Cell and 'Livacon' Pills. Begins with four-page discussion of 'The Bottle Label'. Two pages on 'How Labels are Printed' follow, with a full-page illustration. Other pages headed 'Design is most Important', 'Labels for Mineral Waters' and 'Labels for Wines and Spirits'. A scarce piece of printing ephemera: no copy on COPAC or in the British Library.
Phone enquries
RICHARD M. FORD
Tel: +44 20 8993 1235