Autograph Letter Signed ('T. M. Stone') to Mrs Metcalfe, on an 'eulogium' to her father Frederic Carpenter Skey, delivered by the President of the Royal College of Surgeons, Henry Hancock.
Author:
Thomas Madden Stone (d.1894), Librarian to the Royal College of Surgeons of England, London [Henry Hancock (1809-1880); Frederic Carpenter Skey (1798-1872), surgeon to St Bartholomew's Hospital]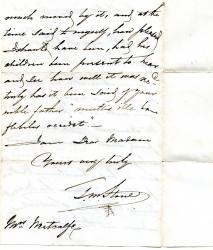 Publication details:
28 February 1873; on the letterhead of the Royal College of Surgeons of England, London.
SKU: 7811
12mo: 2 pp. 18 lines of text. Good. Reporting that 'Mr. Hancock our President' has 'paid such a well deserved eulogium to your honoured sire in his Hunterian Oration published fully in "the Medical Times & Gazette" of last Saturday'. Stone was 'much moved by it', and said to himself 'how pleased I should have been, had his children been present to hear and see how well it was rec[eive]d.' Makes a Latin quotation that has been 'truly [...] said of your noble father'. Skey is not mentioned by name, but the item is from the Skey family archives.
Phone enquries
RICHARD M. FORD
Tel: +44 20 8993 1235