Offprint from the Transactions of the Royal Society of Literature: 'On Two Events which occurred in the Life of King Canute the Dane.'
Author:
John Hogg, Foreign Secretary of the Royal Society of Literature [John Lee (ne Fiott) (1783-1866), of Hartwell House]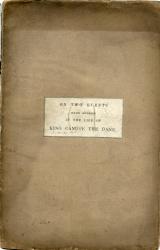 Publication details:
London: Printed by W. Hughes, King's Head Court, Gough Square. 1855.
SKU: 8030
8vo: [ii] + 18 pp. In worn original buff wraps with white printed label on front. Clear and complete. On aged, damp-stained paper. Presentation copy, with note on title-page: 'To John Lee Esqre. L.L.D. | with the Author's kind regards.' Ownership inscription of 'J. Lee. Hartwell. 3 May 1856.' also on title. Scarce.The only copies on COPAC at the British Library and the Society of Antiquaries.
Phone enquries
RICHARD M. FORD
Tel: +44 20 8993 1235