Autograph Letter Signed ('Balcarres') to 'Everard'.
Author:
David Lindsay (1871-1940), politician and future 27th Earl of Crawford [Lindsay Library; Bibliotheca Lindesiana]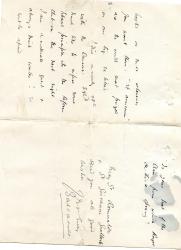 Publication details:
16 October 1895; Haigh [Lancashire].
SKU: 8123
12mo: 3 pp. Bifoilum. Thirty-six lines. Text clear and complete. Fair, on aged paper, with several pin holes, light spotting, and a 1 cm closed tear along a fold. A lighthearted epistle, beginning 'Dear Everard, Dear Everard | The Cistercians make an awful mistake in giving free meals. My Charity-organisation Society temperament rises in wrath: if they wd only apply the labour test for an hour or less - but free meals! I have watched the moral ravages of free meals and feel more strongly abt that kind of thing than about Home rule or Mediaeval Brases. Wont you use your influence?' The recipient 'may have books or mss whenever you want them: "et amicoram" are the words most prized on our big ex libris.' He has a dinner engagement with 'the Bensons' and hopes 'to infuse some liberal principles into the Reform Club on the next night. I am a moderate guest & always drink water! So dont be afraid.' Concludes 'May Sr Romualdo & Sr Giovanni Gualberto send you all good wishes'.
Phone enquries
RICHARD M. FORD
Tel: +44 20 8993 1235