Viking with a Loose Shelailleigh. Tales from Irish America. [playscript]
Author:
Peter Dee [Peter Rogers Dee] (1939-1999), New York playwright and poet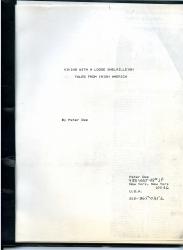 Publication details:
[Unpublished typescript.] [Circa 1992.]
SKU: 9094
Photocopy of word processor typed print-out. 8vo, [ii] + 53 pp. Good. In plastic binder. Title carries Dee's address. Second page lists the twelve sections of the play. Loosely inserted is a photocopy of a long review, with photograph, from the East Hampton Star, 26 March 1992, of 'a dramatic reading' of the play at Canio's Books, Sag Harbor. The play was not published, and there are no copies of this item on WorldCat or COPAC.
Phone enquries
RICHARD M. FORD
Tel: +44 20 8993 1235