[Printed] Report of Special Committee appointed by resolution of the General Meeting of Members of the Garrison Library on March 16th, 1897.
Author:
The Garrison Library, Gibraltar [Sir Stephen Herbert Gatty (1849-1922), Chief Justice of Gibraltar, 1895 to 1905]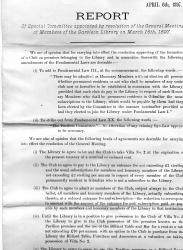 SKU: 9369
Two pages, on the versos of a 4to bifolium. Fair, on lightly-aged paper. Concerning the proposed 'establishment of a Club' within the Library, and concluding 'Generally we are of opinion that the above scheme is the best that can be suggested for upholding both institutions - the Library and the Club. The proposed agreement (i) may appear at first sight to entail a loss on the Library, but the loss it would suffer from the establishment of a Club outside would probably be far heavier, [...]'. Signed in type by Major-General F. Carrington; W. H. Rathborne; Stephen H. Gatty, C.J.; Herbert Marsh, R.N.; L. Barnes-Lawrence; and Joseph A. Patron.' Gatty's copy, with his name in pencil at head of first page. From the residue of Sir Stephen H. Gatty's papers.
Phone enquries
RICHARD M. FORD
Tel: +44 20 8993 1235