[printed form filled out in manuscript] St. John the EVANGELIST, Waterloo Road, District Church. [...] A Bill of Dues for the Burial of a STRANGER. [i.e. 'John Thomas Gardiner'] [signed by the sexton, 'R Booker']
Author:
R Booker, Sexton, St. John the Evangelist, Waterloo Road, Lambeth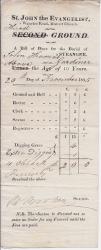 SKU: 9509
On one side of a slip of laid paper, roughly 21 x 8 cm. Printed form for burial in the 'SECOND GROUND.' (amended in manuscript to 'Third'). Gardiner is said to be 'Above [amended from 'Under'] the Age of 10 Years.' Printed charges are for Ground and Bell, Rector, Clerk, Sexton, and Registrar'; with 'Extra Digging' added in manuscript, with '4 OClock Precisely'. Printed note at foot: 'N.B. The Sexton is directed not to enter an Order for any funeral until the Fees are paid.' St. John the Evangelist in Lambeth was consecrated in 1824, and boasted, according to Elmes, an 'atrocity of a steeple, the ugliest perhaps in London, which is straddled a cock-horse across the pediment'.
Phone enquries
RICHARD M. FORD
Tel: +44 20 8993 1235