Substantial collection of press cuttings relating to the arts and crafts firm of F. B. Goodyer of 55 New Bond Street (The Aesthetic Gallery), assembled for the firm by press cuttings agencies. With a few photographs and other items of ephemera.
Author:
The Aesthetic Gallery, 55 New Bond Street (F. B. Goodyer, proprietor) [Arts and Crafts Movement; funiture; fabrics; silk]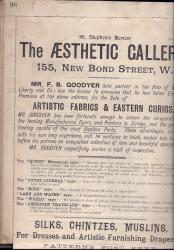 Publication details:
From the firm's foundation in 1889 to 1947.
SKU: 9615
Goodyer has long been recognised as a significant figure in the arts and crafts movement (see Adburgham's 'Shops and Shopping' and Aslin's 'Aesthetic Movement, Prelude to Art Nouveau'), but surprisingly little is known about him. A former partner in the firm of Liberty's, he founded his Aesthetic Gallery at 55 Bond Street in 1889. It specialized in 'English silks, cashmeres, velveteens, fans, cushions, handkerchiefs, table covers, and other dainty manufactures', and numbered Voysey among its suppliers. The present collection, assembled for the firm, contains a mass of unique material, presenting an opportunity for a serious study of the firm. The newspaper articles, collected by the press cuttings agencies of Romeike & Curtice and Durrant, draw from a wide variety of sources. Also present are three photographs of the shop, articles of the firm's stationery (including Goodyer's calling card), advertisements and other matter. Although on aged paper and with some items slightly worn, the collection as a whole is in good condition. The early cuttings (1887 to 1890) are laid down on thirty-three 4to pages of album (with thumb index and 'Newspaper Cuttings' stamped on the front). The earliest cutting, from the World of 27 February 1887, sets the tone, describing 'Mr. Goodyer's aesthetic show', its author writing 'Mr. Goodyer's show of artistic fabrics and Eastern curios is quite wonderful: of course one has seen it all before; for who shall say that it is possible to out-Liberty Liberty? This, however, is plainly Mr. Goodyer's aim, and in his fine rooms he has gathered together everything Eastern that money and enterprise can obtain, and massed together all the colours, all the bizarre and barbarian beauties.' Other sources, drawn only from the first few pages, include The Queen, American Traveller, Court Journal, Jewish World, Land & Water, Pall Mall Budget, Echo, Modern Truth, The Lady's Pictorial ('Goodyear's [sic] red is the red you want. Get it at the Aesthetic Gallery in New Bond-street, Princess Mary of Teck admires it immensely. There's a recommendation for you.'), The Baby, Aberdeen Herald & Weekly Free Press, Home Art Work, Society Herald, Morning Post, City Press, The Table. Some of the cuttings are arranged under the three headings 'Chinese Embroideries', 'Silk Exhibition May 1890' (at which, according to one cutting, Goodyer had 'a great and well-deserved honour bestowed upon him by the Princess of Wales', who asked for him to be presented to her, 'when she spoke to him most kindly and cordially about his beautiful fabrics'), 'Silk Exhibition Novr. 1890'. Also present is an illustrated handbill, on pink paper, for the 'Masque des Fleurs' ('The COSTUMES for the Masque des Fleurs are supplied by Mr. Goodyer, of Bond Street.'). The last dated cutting is from 8 November 1890. At the back of the volume are three pages, on which are laid down two substantial advertisements from 1889 announcing the opening of the Aesthetic Gallery, together with two calling cards - one for Goodyer personally and the other, illustrated, for the Gallery, as well as a handbill announcing the opening of the Gallery and a printed invitation to its first exhibition. Accompanying the album is a box containing around 200 more loose cutting, almost all attached to slips of the two cuttings agencies. The latest dated cutting appearing to be one from the Morning Post of 29 April 1925 ('In this veritable palace of wonders there are oval divans, beds with shell-shaped heads, settees and chairs, reproductions of Jacobean tapestries, until one is bewildered with the beauties, but proud to hear Mr. Goodyer say: "Yes! All are English made." ' Also included in the box is a small collection of ephemera, including three photographs, two apparently of the interior of the Gallery, and another, 29 x 24 cm, showing its exterior, after its relocation to 174 Regent's Street, and those of the shops on either side, the facia reading 'GOODYERS | COLOUR DESIGN FABRIC SPECIALISTS'. Also included are around 20 of the firm's handbills and fliers, including a 4to bifolium advertising the 'Spring Exhibition of Artistic Silken & other Textile Fabrics of British Manufacture', an advertisement with two coloured illustrations, of 'The New Horn Jewellery by Goodyers', and a one-page 4to 'Notice of Removal' (c. 1933) of the shop ('Owing to the crippling rents of Regent Street, combined with the disastrous trade slump of the past four years') from Regent Street to 3 Kingly Street, where the firm 'can still give of their best at prices suited to present day conditions'. Also a couple of receipts and a Christmas card to the firm's J. W. Cox, together with an Autograph Card Signed to him from 'B M Goodyer' (Goodyer's widow) of St Leonards on Sea, dated 17 November 1947: 'you always cheer me up with your bright chatter'.
Phone enquries
RICHARD M. FORD
Tel: +44 20 8993 1235