[printed handbill] Prologue written by the Earl of Mount Edgcumbe, And spoken by him at the opening of the Theatre, Strawberry Hill, Nov. 1800.'
Author:
Richard Edgcumbe (1764-1839), 2nd Earl of Mount Edgcumbe [Anne Seymour Damer (1748-1828; née Conway), whose guardian Horace Walpole left her his villa at Strawberry Hill; Strawberry Hill Press]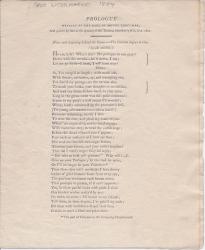 Publication details:
Without place or date [Strawberry Hill Press? c.1804'].
SKU: 9640
4to, 1 p. On bifolium of wove paper, watermarked 'J LARKING | 1804'. Nicely printed. Good, on lightly-aged paper. The poem is thirty-four lines long, beginning 'Hold, hold! What's this? No prologue to our play? | Down with the curtain - let it down, I say; | Let me go forth - I must, I will have way!' It is preceded by title and 'Noise and disputing behind the Sccenes. - The Curtain begins to rise. | (Speaks within.)' Footnote concerning 'The part of Valentine in the Intriguing Chambermaid.' Lady Theresa Lewis notes, in her edition of Miss Berry's letters and journals (1865) that in November of 1800 'Mrs. Darner indulged in the favourite amusement of private theatricals, on which occasion Miss Berry, her sister, and her father took part.' See Hazen, Strawberry Hill Press, Detached Pieces, 94. Copac lists only three copies: one at Edinburgh, and two at the British Library (of which one is listed as on unwatermarked laid paper, and the other on wove paper watermarked with date 1804).
Phone enquries
RICHARD M. FORD
Tel: +44 20 8993 1235