[John Masefield, Poet Laureate.] Autograph Card, ordering a book from a booksellers' list.
Author:
John Masefield (1878-1967), Poet Laureate and author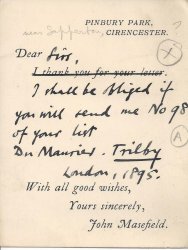 Publication details:
Pinbury Park, Cirencester. No date.
SKU: 24144
See his entry in the Oxford DNB. In good condition, lightly aged. In the following transcript, the parts in Masefield's autograph are in square brackets, and the first printed sentence ('I [...] letter.') has been scored through: 'PINBURY PARK, / CIRENCESTER. / Dear [Sirs,] / I thank you for you letter. / [I shall be obliged if you will send me No 98 of your list / Du Maurier. Trilby / London, 1895.] / With all good wishes, / Yours sincerely, / John Masefield.' (Note that this 'signature' is printed.) See image.
Keywords:
Phone enquries
RICHARD M. FORD
Tel: +44 7884 315 545