The Powys Family. Being a lecture given by him to the Swansea and South Wales Bookman's Association in May, 1945, with some additions.
Author:
Littleton C. Powys [John Cowper Powys; Llewelyn Powys; Theodore Powys]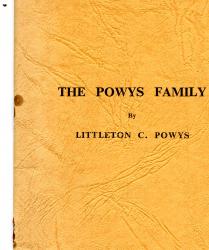 Publication details:
This reprint [of the original lecture] issued April, 1953.' Western Gazette, Yeovil.
SKU: 8040
12mo: 27 pp. Stapled. In original brown printed wraps. Good, on lightly-aged paper with rusted staples. Divided into five sections: 'Our Ancestry', 'Our Father', 'Our Mother', 'Montacute' and 'The Children'. A scarce item, the only copies on COPAC being at the British Library, Cardiff and St Andrews.
Phone enquries
RICHARD M. FORD
Tel: +44 7884 315 545