Printed notice ('PRIVATE. - For Railway Servants only.') offering a reward for the return of a number of 'G.W.R. HIRED WAGONS.'
Author:
C. A. Roberts, Great Western Railway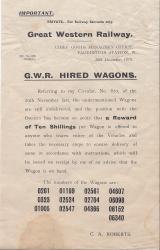 Publication details:
20 December 1916. Chief Goods Manager's Office, Paddington Station, W.
SKU: 9487
12mo, 1 p. Text clear and complete. On aged and creased paper. Giving the numbers of thirteen wagons which are 'still undelivered', 'the position with the Owners' having become 'so acute that a Reward of Ten Shillings per Wagon is offered to anyone who traces either of the Vehicles and takes the necessary steps to ensure delivery of same'.
Phone enquries
RICHARD M. FORD
Tel: +44 20 8993 1235