Autograph Letter Signed, in the third person, from Lord Churchill to the cartographer William Faden
Author:
Francis Almeric Spencer (1779-1845), 1st Baron Churchill of Whichwood [Lord Churchill] [William Faden (1750-1836), cartographer and map seller, Charing Cross, London]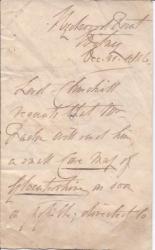 Publication details:
31 December 1826; Wychwood Forest, Witney, Oxfordshire.
SKU: 10969
12mo, 2 pp. Nine lines. Text clear and complete. Addressed by Churchill on reverse of the second leaf, with red wax seal, and his frank: 'Witney Dec. thirty one 1826. | Mr. Faden | Map Seller | Charing Cross | London. | [signed] Churchill'. On aged and lightly-creased paper, with a spike hole. Asking Faden to 'send him a small Case map of Gloucestershire, as soon as possible', directed to him by 'Pratt's Gloucester Coach, to be left at Witney'.
Phone enquries
RICHARD M. FORD
Tel: +44 7884 315 545