Autograph Letter Signed ('F. Anstey') from the humorist Thomas Anstey Guthrie to the Editor of 'The Academy', responding to a request for comment on a list of suggested members for an 'Academy of Letters'.
Author:
F. Anstey [Thomas Anstey Guthrie] (1856-1934), humorist [James Sutherland Cotton (1847-1918), editor of the 'Academy', 1896-1903]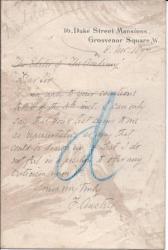 Publication details:
8 November 1897; on lettehead of 16 Duke Street Mansions, Grosvenor Square, London.
SKU: 11151
12mo, 1 p. Text clear and complete. Marked up for publication, with the first sentence deleted. On aged and stained paper. He 'can only say that your list seems to me as representative as any that could be drawn up', and that he does not 'feel in a position to offer any criticism upon it'. The edited version of Anstey's letter appeared with others in 'The Academy' in November 1897, in a piece with the opening sentence: 'We have received a large correspondence in response to our request for comment on the list of suggested members for an ACADEMY OF LETTERS published last week.'
Phone enquries
RICHARD M. FORD
Tel: +44 20 8993 1235