Autograph Letter Signed ('W Brockedon') from the English painter William Brockedon to the collector Robert Cole, FSA, discussing autographs.
Author:
William Brockedon (1787-1854), English painter [Robert Cole, FSA, London solicitor and autograph collector]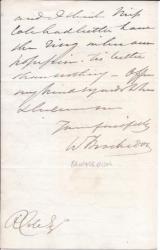 Publication details:
19 August 1844; 29 Devonshire Street, Queen Square [London].
SKU: 11166
12mo, 2 pp. 21 lines. Text clear and complete. Good, on lightly-aged paper. He thanks him for his 'letter (Copy of Flora Macdonald)', and asks which letters he gave him 'of travellers'. 'Richard Lander I cannot give you. Of John I can & of poor Stothard - who was murdered at Bokarra [Bokhara] & of [Alexander] Burnes - but my impression is that I gave you those'. He has 'not heard again from ' and thinks that 'Miss Cole had better have the ring in her own possession - tis better than nothing'.
Phone enquries
RICHARD M. FORD
Tel: +44 20 8993 1235