Seven Autograph Letters Signed (five 'Glyn' and one 'Glyn Philpot') from the artist Glyn Philpot to the diplomat Ernest Frederick Gye.
Author:
Glyn Philpot [Glyn Warren Philpot] (1884-1937), painter and sculptor [Ernest Frederick Gye (1879-1955), diplomat]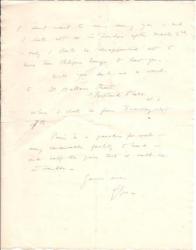 Publication details:
One dated 1927 and another 1931; the others undated. Three from Lansdowne House, Holland Park, the others from London and Paris.
SKU: 11182
The seven items in fair condition, on lightly-aged paper and with the last two with wear to extremities. ONE: 15 June 1929; on letterhead of Lansdowne House, Lansdowne Road, Holland Park. 1 p, 4to. Accepting a dinner invitiation. 'I wish we did not meet so seldom, and after this long gap I hope we shall see each other more often'. TWO: 10 January 1931; on letterhead as One. 2 pp, 12mo. He is 'going to work in Paris a good deal this year - and shall often have occasion to take unfinished - or finished - things - pictures drawings - small sculpture to & fro between here & Paris'. Asks if there is 'any way of dodging what I believe are rather troublesome formalities as to declaring works of art', perhaps with a 'standing permit'. He would like Gye to see 'a really exciting bit of sculpture' he has just done. THREE: Undated; on letterhead as One. 2 pp, 12mo. Following on from Two, he thanks Gye for 'making enquiries', and would like to 'know of the agents recommended by Lefevre'. He is 'very glad to know that there is no difficulty in bringing things from Paris, here for that will be the more serious part of the business'. He is 'going out next week', by the time of his return 'my statue will be cast & I can show it you'. FOUR: 12 June [no year]; on letterhead of Baynards Manor, Horsham. 2 pp, 4to. He has just found Gye's invitation to his show at the Leicester Galleries in 'a pile unposted!' 'My new work is getting such a very "mixed" reception and I believe you would see what I am aiming at better than most people'. FIVE: 14 February [1931]; 226 Boulevard Raspail, Paris XIVe. 2 pp, 4to. Concerning his scupture 'Oedipus Replying to the Sphinx' (1931, now in the Tate collection). Closed tear at head. His 'caster' tells him 'that my bronze [elsewhere in the letter referred to as 'this Oedipus bronze'] cannot be ready until the 25th or 26th': 'This is most disappointing to me because I so much looked forward to showing it to you.' If Gye can come for lunch on 1 March it 'would then be quite certainly ready; and one or two smaller things as well'. 'Paris is a paradise for work - every conceivable facility to hand - and half the price that it would be in London'. SIX. 17 [no month or year]; on letterhead of 216 Boulevard Raspail, Paris. 4to, 1 p. Acknowledging receipt of a letter, and suggesting lunch. SEVEN: Undated; 20 Hallam Street, Portland Place. 12mo, 2 pp. Inviting him to lunch in Soho.
Phone enquries
RICHARD M. FORD
Tel: +44 20 8993 1235