[Sir Philip Sassoon of Port Lympne: described by Noel Coward as 'a phenomenon that would never recur'.] Autograph Signature ('Philip Sassoon.) and autograph compliments slip.
Author:
Sir Philip Sassoon [Sir Philip Albert Gustave David Sassoon] (1888-1939), politician, art collector and socialite at Port Lympne and Trent Park, cousin of Siegfried Sassoon, friend of Noel Coward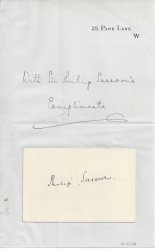 Publication details:
No date [dated by recipient 12 June 1928]. Laid down on letterhead of 25 Park Lane, W. [London.], which carries the autograph compliments.
SKU: 23969
Considered by his friend Noël Coward as 'a phenomenon that would never recur'. See his entry by Osbert Sitwell in the Oxford DNB and the biography by Damian Collins, 'Charmed Life: The Phenomenal World of Philip Sassoon' (2016). Clearly sent in response to a request for an autograph. The signature is on a plain 9 x 6 cm card, and reads simply 'Philip Sassoon.' The card is laid down at the foot of a 12mo letterhead, on which is written by Sassoon, above a flourish: 'With Sir Philip Sassoon's Compliments'. Both items in good condition, lightly aged. In bottom right-hand corner the recipient has written '12. vj. 28'. See image.
Keywords:
Phone enquries
RICHARD M. FORD
Tel: +44 7884 315 545