[David Low, London bookseller.] Typed Card Signed to 'Dear Rock' (the bookseller Andrew Block), regarding oriental prints and 'Teddy'.
Author:
David Low (1903-1987), London bookseller whose 1973 autobiography 'With All Faults' has an introduction by Graham Greene [Andrew Block (1892-1987)]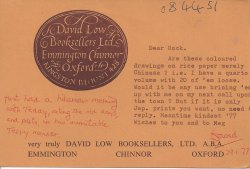 Publication details:
29 January 1977; on letterhead of David Low Booksellers, Ltd., Emmington, Chinnor, Oxford.
SKU: 24131
In his obituary of Low's partner Robin Waterfield (Independent, 12 February 2002), James Fergusson describes Low as a 'Scottish Polish Jewish bouquiniste'. The recipient Andrew Block's obituary in 'The Private Library' was subtitled 'the doyen of booksellers'; his business was established in 1911. Plain orange-yellow card, with Reynolds Stone oval medallion letterhead. Signed 'David' in red ink. Addressed, with postmark and stamp, to 'Mr. Andrew Block / 30, Barter Street / London W.C.1.' He enquires whether the 'coloured drawings on rice paper' he is sending are 'merely Chinese'. He has 'a quarto volue with 20 of 'em loose', and asks whether it would be 'any use bringing 'em up with me on my next call upon the town'. Ends: 'But if it is only Jap. prints you want, no need to reply. Meantime kindest '77 Wishes to you and to Meg'. Postscript also in red ink: 'Just had a hilarious morning with Teddy, acting the old days, and parts, in his inimitable Teddy manner.' See image.
Keywords:
Phone enquries
RICHARD M. FORD
Tel: +44 7884 315 545